STANAG On Demand Server delivers On-Demand / Live FMV and geo-spatial metadata to video analysts and field operators in order to help them easily access, analyze, and present mission information. The server allows efficient review of vast amounts of ISR content using mission related and spatial queries.
On Demand / Live and Low latency Live (LAN) video playback.
Live HLS streaming over the Internet. AWS S3 streaming.
Situational Awareness (video / online/offline maps).
Geojson annotations (over the video and maps). Geo queries.
GPU accelerated 3D video overlay engine.
Video bookmarks.
Detailed STANAG metadata presentation.
VMTI (Video Moving Target Indicator) support.
Multi-channel STANAG stream recording (UDP unicast/multicast).
Powerful administrative tools, user authentication and authorization. User groups.
Video/metadata transcoding services.
Video processing / filtering (effects).
Scheduled (cron) operation.
Activity logger.
REST API.
Front-end JS components (KlvPlayer and KlvOverlay) for custom client development.
No browser plugins required.
ITAR free.

Reusable React components
Samples with complete source code
Easy integration in your web app
UAWall – STANAG  mosaic view.
Multi-channel mosaic view
User defined layout
STANAG video / Map / Klv metadata (MISB 0601 / 0102 / 0903 )
MIL-STD-2525 / STANAG 2019 APP-6 symbology presentation
No browser plugins required.
ITAR free.
Ground Station stream monitor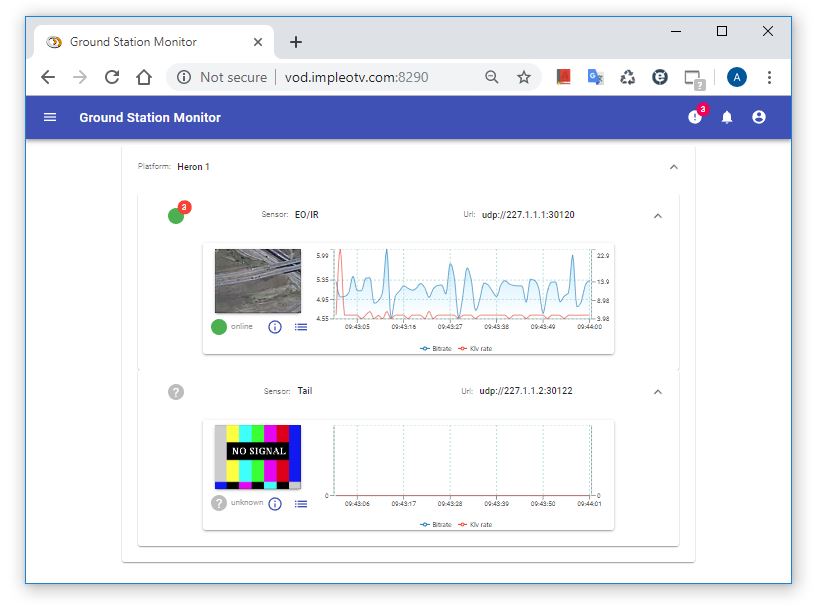 Monitors a list of video streams (yaml configuration file)
 Multiple UAV platforms (with multiple sensors each)
Timeout, Bitrate and Klv rate reporting
Low latency video preview
MISB 0601, 0102, 0903 live decoding
Stream parameters detection
User defined event triggers based on speed, altitude, location etc
MQTT messages for easy integration (InfluxDB, Grafana, etc)
Cross platform Windows/Linux. Easy setup.
Desktop and Mobile UI.