STANAG Metadata Encoder is a powerful, yet easy to use metadata processing tool for transcoding of various telemetry metadata formats into MISB 0601.8 compliant RAW KLV used for metadata insertion into Intelligence, Surveillance and Reconnaissance (ISR) Imagery. This tool receives a CSV or other human readable metadata packets over LAN, encodes them on the fly, and sends the resulting data packet over the Ethernet for live data insertion by encoders or injectors for live generation of the STANAG 4609 compliant streams. STANAG Metadata Encoder is used for online STANAG streams generation by combining a FMV with an external sensors data.
Main features:
Accepts CSV strings sent over LAN (UDP).
Encodes into MISB 0601.8 compliant RAW Klv packets.

Sends RAW Klv packets over Ethernet (UDP).

Records resulting RAW Klv packets as binary files.
"ITAR-free".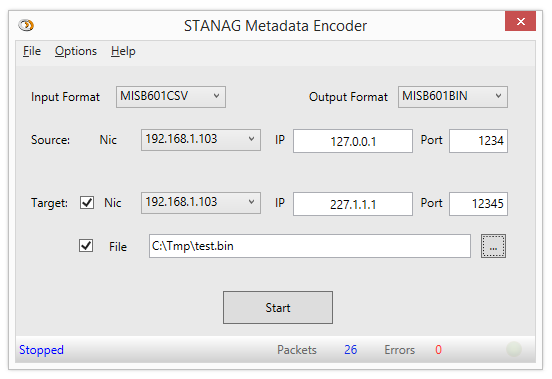 Application license
€349
On the fly transcoding of metadata
RAW Klv (MISB 0601.X) streaming