KLV Injector is a powerful, yet easy to use video and telemetry processing tool for metadata insertion into FMV (Full Motion Video). This tool performs on-the-fly generation / segmented recording of a STANAG 4609 compliant streams and files with MISB 0601.X Klv metadata. KLVInjector is used for real-time STANAG stream generation by combining a FMV with an external sensors data, video/data assets post-processing, creating unclassified test video sequences, etc.
Main features:
KLV telemetry insertion into MPEG TS over UDP stream (live mode).
KLV telemetry insertion into MPEG TS file (offline mode).
Metadata sources - RS232, LAN, file (binary or excel/csv).
Template packets - metadata addition / correction / filtering.
MISB 0601.5 (including MISB 0102.9, MISB 0903.3 VMTI and EG 0806.3 RVT).
Segmented stream recording.
Video transcoding (offline). You can use any type of source video files, change resolution / bitrate, etc.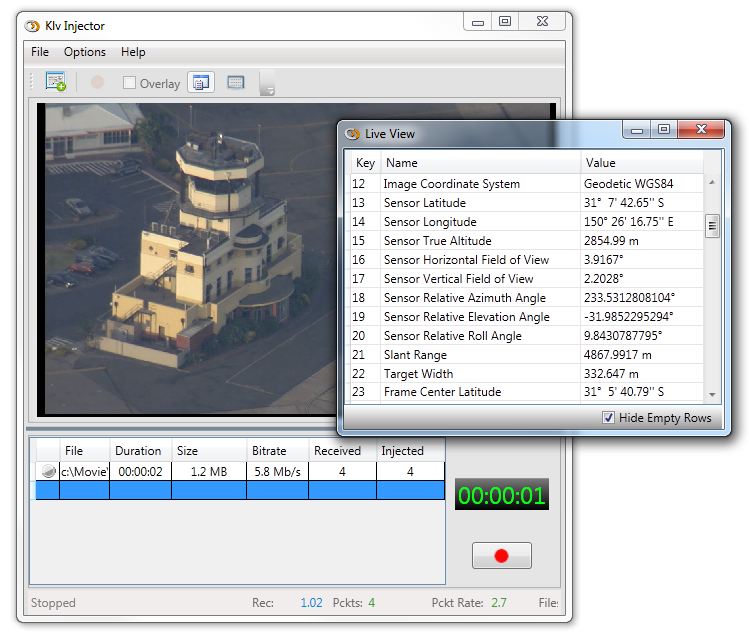 Application
Application license
€699
KLV telemetry insertion
Streams
Files
Segmented recording
Network target
€139
Send over the network