KLV Injector is a powerful, yet easy to use video and telemetry processing tool for metadata insertion into FMV (Full Motion Video). This tool performs on-the-fly generation / segmented recording of a STANAG 4609 compliant streams with MISB 0601.X Klv metadata. KLVInjector is used for real-time STANAG stream generation by combining FMV with an external sensors data, video/data assets post-processing,  commercial drone (DJI) video conversion to MISB / STANAG standards , etc.
Main features:
MISB 0601.X KLV on-the-fly metadata insertion into MPEG TS over UDP stream (live mode).
MISB 0601.X KLV offline metadata insertion into MPEG TS file. Real time (with video preview or faster than real time).
Metadata sources - from RS232, LAN, File (binary, json or csv).
DJI drone video/ logs to STANAG 4609 conversion. Frame center and footprint calculation.
Template packets - metadata (binary, json) add / replace.
MISB 0601.X (including MISB 0102.9, MISB 0903.4 VMTI ).
Segmented stream recording.
Video transcoding (offline). You can use any type of source video files, change resolution / bitrate, etc.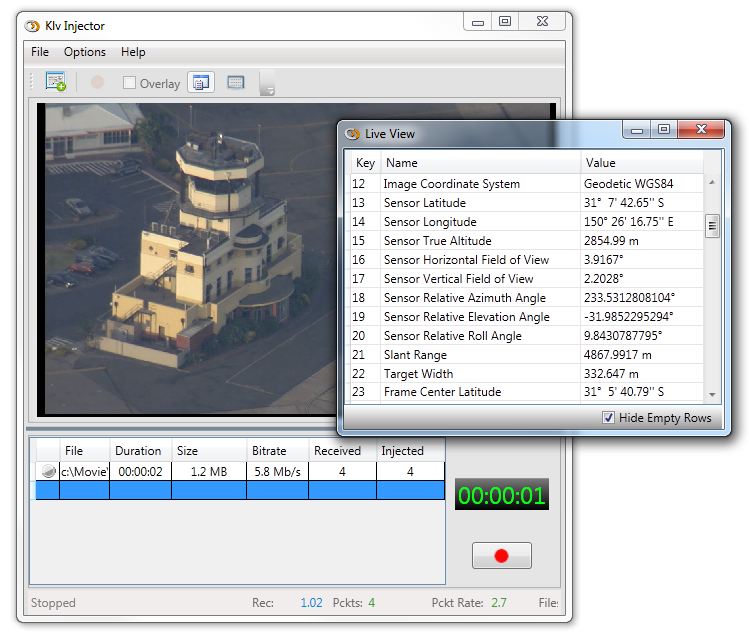 Application
Application license
€699
KLV telemetry insertion (udp, bin, csv, json)
Streams / Files
Recording
Drone video conversion to STANAG
Frame center / Footprint calculation
Network target
€99
Send over the network